Cutting Edge Martial Arts Websites
that Bring New Students into Your School…Fast
Finally, a Beautiful, High Quality Lead-Generating Website for Your Martial Arts School
WHAT MAKES OUR MARTIAL ARTS WEBSITES SO AMAZING?
You Get a Dynamic, Mobile Responsive, Lead-Generating Martial Arts Website that Works for You 24/7/365
Martial Arts Websites Designed to ATTRACT and CAPTURE Leads
User Editable Pages, Posts, and Offers

More than Online "Brochures", Our Carefully Crafted Websites with Engaging Videos, Persuasive Sales Copy, and SEO Rich Content Turn Visitors into Prospective Students for Your Martial Arts School.
Nearly 60% of Searches are now Done on a MOBILE Device. Your Site will look Great on Mobile Phones, and Our Sites Follow Google and Bing's Guidelines for Responsive Design. If Your Site is NOT Responsive, You're "Chasing Away" 60% of Online Searches!
Using our Powerful and Simple Page Editor, You can make Changes to Your Pages, Update Your Content, and Control Your Marketing Quickly and Easily! Finally, a Beautiful Website You Can Make the Way YOU Want It!
Attention-Grabbing Video Landing and Sales Pages

Fully Customizable Website Designs

With an "Amazing" Martial Arts Website, Your Posts and Articles can be AUTOMATICALLY Posted to All Your Social Media Pages and GROUPS in Addition to Allowing your Visitors to "Share" Your Content. It's Like Hiring a Full Time Social Media Manager for Your School!
Including Video on Your Landing and Sales Pages Can Increase Conversions by More than 80%! Choose from Our Extensive Library of Whiteboard, Live Action, Cartoon, Animations, and MUCH More to Unleash the Power of Our High-Impact Martial Arts Sales Videos!
Choose from Our Extensive Library of Carefully Optimized Layouts and Create a Unique Website that Tells the Story of YOUR Unique School. Make Your Site Eye-catching in order to Connect with the Students YOU Want to Attract!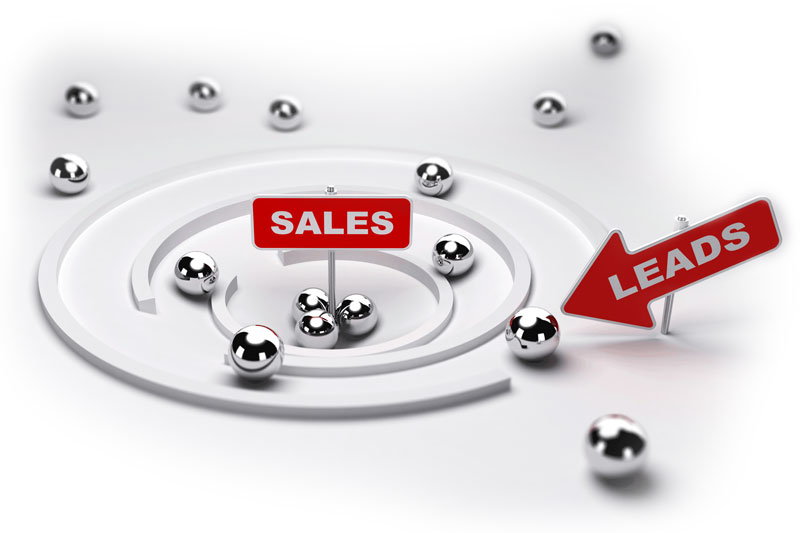 Quickly Convert Visitors into New Students
Amazing Martial Arts Websites are strategically designed to turn browsers into students.
MOST of the people who "visit" a website will NEVER "call" you for more information. But if you offer them something OF VALUE that they are interested in, you'll be amazed at how many visitors will take you up on it!
Our Lead Capture Funnel is Carefully Tested and PROVEN to Engage with your Site Visitors, CAPTURE their Contact Information, and THEN Persuade them to "Take Action" and Visit Your School to Try Your Program(s).
Capture Visitors Using ANY Device with Mobile Responsiveness
More than 60% of your customers are using a smartphone or other mobile device to visit your website. You MUST be using a 100% Mobile Responsive Design.
With our sites, whether visitors use a desktop, laptop, tablet, or smartphone they will easily get the Full Impact of Your Website and you will effortlessly increase your enrollment.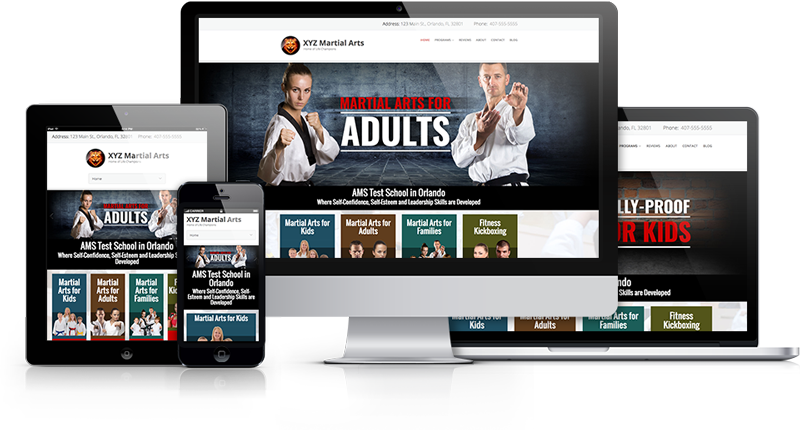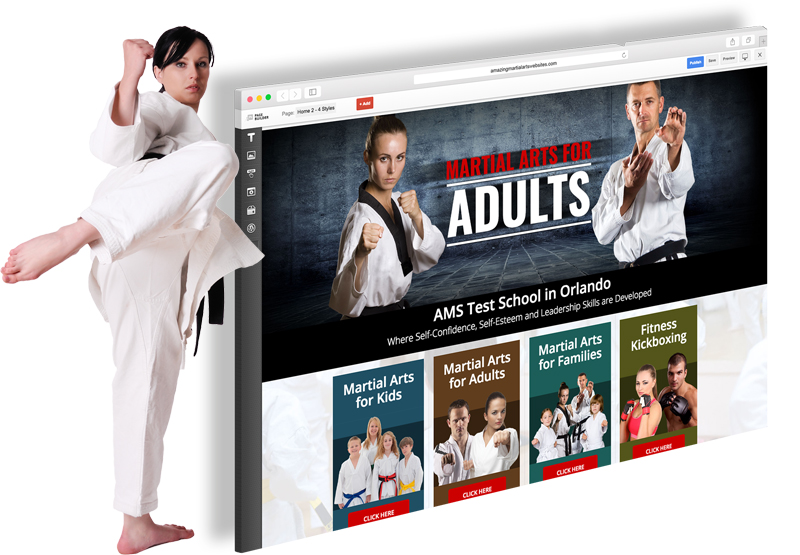 YOU Are in Command of Your Content!
You can update Your Amazing Martial Arts Website content any way and time you like by using our Powerful Page Builder.
If you wish to change pages by adding your own pictures or including additional articles to Enhance Your Website, it's a snap. Also, whenever you like, you can change your promotional offers to better fit your desire to add more students quickly.
You'll never again be at the 'mercy' of your web developer, use the same tired content as a 100 other schools, or have to 'submit a ticket' and wait ages just to change a few words here or there!
AUTOMATICALLY Syndicate Content to Hundreds of Social Media Platforms
Broaden your market reach with Your Amazing Martial Arts Website using the power of its Social Media Syndication System.
Automatically send your posts and articles to all of your social media pages AND GROUPS with Quick Social Targeting. Reaching more customers through social media is a surefire way to bring more leads to covert into long-term students.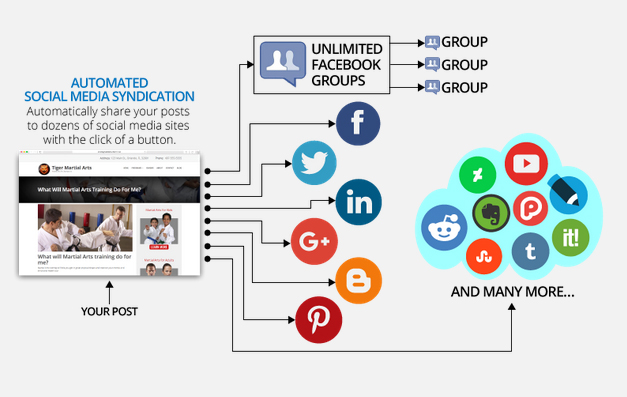 Magnetically Attract More Prospects with Dynamic Video Enhanced Landing Pages and Sales Pages
Engaging video can increase your 'opt-in' rate by more than 80%!
Our Amazing Martial Arts Websites will excite and inform you site visitors and capture MORE leads with out HUGE library of lead capturing Stunning Videos and Great Offers.
The broad selection of landing page videos enables you to choose the best fit for your school so that your website Stands Out From the Crowd. Also, dynamic martial arts videos combined with persuasive sales pages will quickly push more new students through the doors of your school.
Customize The Best Website For Your Specific School
Simply choose a style for Your Amazing Martial Arts Website from a variety of uniquely designed themes and customize to your heart's content; it's up to you, You Are In Control!
It's easy to present your school the way you want, distinguish your site from you competitors, and get seen by Huge Numbers of Prospects searching for martial arts training in your area. Your choice of eye-catching designs creates a website that will attract new students every month.